Savoia oil mill - Extra Virgin Olive Oil in Puglia
It's not only an oil,
it's a casket of flavours,
with the secret notes of almond,
the scent of fields and grass, the wooden smell of olive trees,
with the bitter and spicy twist of the just picked olive.
It's not only oil
passing on dishes as dressing,
it's the Savoia oil, protagonist on the table.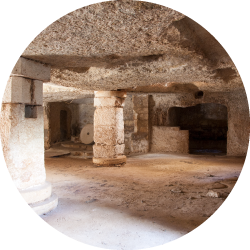 The Underground Oil Mill of the Farm
Experience centuries of history with a tour in the underground oil mill of the Pezze d'Aglio farm where the Savoia farm is based.
Discover it for your important events or as company gift ideas.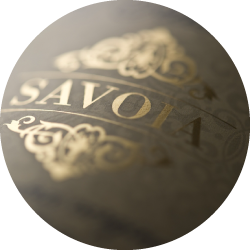 Our Extra Virgin Olive Oils
For someone it's a passion, for us it's alchemy since 1909.
AN UNFORGETTABLE EXPERIENCE
Oil mill visit and Tasting Tour
Among the most characteristic oil mills in Puglia, the Savoia oil mill in Fasano plunges you in an ancient and genuine atmosphere. The underground oil mill in the Farm cave allows you to experience the oil production activities carried out in the previous centuries. Instead, the modern oil mill introduces you to the new milling techniques of our extra virgin olive oil. You will get to know some olive trees varieties as well as the oil qualities. The tour ends with several oils tasting in order to learn to identify their organoleptic qualities. When would you like to visit our oil mill? Book your tour immediately filling in the form. We shall answer you within 12 hours.
"We love what we do and how we do it"
We take your words at face value
Giulia Trosino
06/09/2021
Visita guidata molto interessante ed esaustiva. I proprietari sono molto gentili e la loro passione è evidente! La degustazione finale apre un mondo sull'olio che normalmente si ignora completamente. Davvero consigliata!
Arlene Paterson
18/10/2020
We called to stop by for a last-minute tasting and had a wonderful experience. Rosaria was so welcoming and we ended up purchasing fresh unfiltered oil pressed the same day.
Domenico Demarino
10/08/2020
Ottimo olio produzione locale
nadia georgieva
09/04/2019
Ottimo
We zijn door restaurant Dubonnet doorverwezen naar de Masseria van familie Savoia. Rosaria heeft ons, in zeer goed Engels, rondgeleid door de oude productiegrotten en de moderne productievoorzieningen. We hebben de rondleiding afgesloten met een proeverij. Samengevat: Prachtige locatie, heerlijke olijfolie en een zeer aan te bevelen rondleiding door Rosalia!
778 Prestige from secular olive trees
778 Prestige is a limited edition of the Savoia oil mill. Why did we choose this name?
The Novello "PrimEvo" Extra Virgin Olive Oil has been obtained from our harvested green olives, pressed on the dame day and immediately bottled up after the milling. It is neither filtered nor decanted.
The Monovarietal oils bring out the best of our olive heritage and they express the peculiar characteristics of the native varieties typical of our local territory. Each variety has its own personality: scents and flavours enhanced by specific combinations.
The tradition of the oil-producing art, preserved for four generations, can be found in this great-tasting product.
The Classic is an extra virgin olive oil with a very delicate flavour and scent, obtained from accurately selected olives according to size and level of ripeness.
Our flavoured extra virgin oils are a fusion of flavours and scents, thought as dressing for salads, fish, poultry, cooked and raw vegetables.
Whether you are a restaurant owner or a private individual, write to us explaining your requests: we'll certainly know how to accomodate them. We shall answer within 12 hours.